About the Harsh Truth Series
In life, you can't control alot of things – this is the harshest truth about life. But there is one thing you can control and that is yourself and your reactions to the never ending challenges life will throw at you. The harsh truths is a bi-weekly interview showcasing the harshness embedded in different spheres of life and academics. Today's edition focuses on the Medical Laboratory Scientist and Student.
The harsh Truth Series enables you embrace your own reality and realise that you alone can make you happy.
An Interview with Scientist Olayinka Gbenga about the harsh truths of being a Medical Laboratory Scientist and Student
Hanat: Can we get to meet you sir?
Scientist Gbenga: My name is Olayinka Gbenga. I am a 500 level student, Medical Laboratory Science (Chemical Pathology), Achievers University, Owo.
Hanat: Nice to meet you! What influenced your career choice?
Scientist Gbenga : After I finished my National Diploma in Science Laboratory Technology  at Rufus Giwa Polytechnic, Owo. I was so lucky that I got a job as a Laboratory Attendant at Achievers University, where I was posted to the Department of Medical laboratory Science.
It was during this period (1year 3months) that I realised that there's a big difference between SLT and MLS. I also got interested in Medical lab because I sometimes listen to their lectures and attend the 500L seminars. Then I decided to leave the job and further my studies in the field of Medical Laboratory Science. Afterwards I fell in love with Medical Laboratory Science.
Hanat: Wow, so cool! So, have you ever questioned your career choice? Why or why not?
Scientist Gbenga : As a Medical Laboratory Science Student, my answer is no, but I have once thought of Nursing because of the job opportunities availed to nurses outside of  the country.
Why nursing?
Scientist Gbenga : Because it's easier to leave Nigeria as a Nurse than as any other professional.

See: Medical Lab Science VS Nursing Science: Which is more lucrative?
Hanat: What are the major challenges you have faced so far?
Scientist Gbenga : To be frank, my major challenge is cramming, it seems impossible for me no matter how hard I try, and in Medical Laboratory, there are some courses that you just have to cram some of it's sections. If I don't understand, I won't be able to remember what I've read.
Hanat: How did you overcome this challenge?
Scientist Gbenga: I meet friends to tell me how they memorized it, or I engage in discussion with my colleagues.
Was there ever a time you pierced yourself while getting a blood sample from a patient?
Scientist Gbenga: No. No way that is going to happen!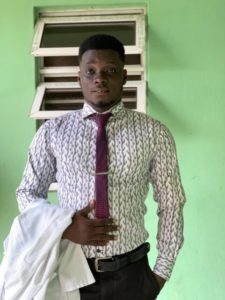 Hanat: Was there ever an emergency situation where you needed a PPE and it was unavailable?
Scientist Gbenga : I don't think there's any.
Hanat: You don't think or you can't recollect any?
Scientist Gbenga: I can't recollect any.
Hanat: Was there ever a time you needed to take samples from someone with highly infectious blood borne disease? How did you react?
Scientist Gbenga : It doesn't matter whose blood I am taking, as long as it isn't my own blood, it is a must I use the right technique and the right personal protective equipment.
Hanat: Is the personal protective equipment always available?
Scientist Gbenga: Not always, but I always have my personal glove.
Hanat: That's very thoughtful, I must say.
What is the most pressing issue in the Nigerian health sector and what impact does it have on your profession?
Scientist Gbenga : Unconducive laboratory, work overload and inadequate equipment.
What is your opinion on Universal health care?
Scientist Gbenga: Well, to me, the world is moving forward but I am not sure how or when Africa will catch up with the rest of the world. Although, we have improved, but we still have a lot to do.
Hanat: Was there ever a time a patient refused sample collection? How did you handle it?
Scientist Gbenga: Yes, some patients have niddle phobia, hence, to overcome this challenge, such patient would sit and observe other patients' reaction as I collect their samples. After collecting samples from about five  patients, the patient would have gained enough confidence.
But, most times, I simply tell the patient not to waste my time due to my workload. At the end of the day, all patients end up giving sample, they do not have any other choice.
Hanat: What would you consider the most difficult part of your career?
Scientist Gbenga: Combining work and family! Medical Lab (and other health departments) is so time consuming. I have a lot of senior colleagues who still go for call (night and weekend duties) even after 15yrs in service.
How do you maintain a good mental health?
Scientist Gbenga: By having fun when I can, having good friends I share my thoughts with and good food too. I can't kill myself.
Hanat:The food part is important. Lol
Hanat: Can you describe the medical, ethical and societal issues surrounding abortion?
Scientist Gbenga: Medically, abortion may and may not be advised depending on the circumstances surrounding the pregnancy and that is where the ethics comes in. It is the responsibility of the patient to decide if she will be aborting or not, and she should not be tricked or pressured into it.
Society, religion and culture frowns at abortion but the same religion and culture discriminates against women that give birth out of wedlock. What should we do?
Hanat: What is your opinion on fake lab experiments result and how quack clinics discredit your works?
Scientist Gbenga : I am not pleased, but it is the role of the Medical Laboratory Council of Nigeria to ensure that quacks are eliminated in the profession.
And also, a doctor who sent a sample to someone who is not a certified Medical Laboratory Scientist should expect nothing but a wrong result.Quacks simply cannot give what they do not have.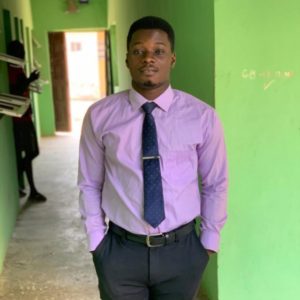 Hanat: They are not always easy to identify?
Scientist Gbenga: To know if your medical laboratory scientist is worthy and if you can rely on his result, a doctor should challenge the result once in a while. If he is good enough, then he will defend the result. A Medical Laboratory Scientist "must be able" to defend a test he did and signed out. We need the doctors to help eradicate this. And also, a proper awareness to the public on who a Certified Medical Laboratory Scientist really is.
What qualities do you feel are critical for a medical laboratory scientists and Why?
Scientist Gbenga : He must work with conscience and to keep in mind that every sample is a life and one day someone will run test on his own sample.
Hanat: Was there ever a time excessive sympathy with your patient interfered with your job?
Scientist Gbenga: None that I can remember.
Hanat: I'm sure everyone wants a story, please remember, sir.
Sientist Gbenga: I supported a patient with fund in getting blood for his mom, he had donated to the mother and she still needs blood and he doesn't have enough on him. I felt his pain and helped out.
Hanat: Was it against school rules?
Scientist Gbenga : It's not, but if I do that for everybody I have sympathy for, I would go broke in no time.
Hanat: A lot of people see medical laboratory scientists as assistant doctors, how would you define your position in the  health sector while changing the stereotype?
Scientist Gbenga: Hmm…Medical Laboratory Science indeed started out as being  assistant doctors but over the years, the profession has grown and it's potential growth is immeasurable.
Modern Medical Laboratory Science it's a special department in the hospital settings in which more than 70% of clinical decision is made from the laboratory result. The standard hospital cannot stand without a functioning Medical Laboratory.
What job opportunities are available as a graduate of medical laboratory science?
Scientist Gbenga: So many, but you have to be competent. A Medical Laboratory Scientist is not restricted to Medical Laboratory alone, they can work as a researcher, academics. The fact that Medical Laboratory Science has four major disciplines and provides more opportunities.
Hanat: What are the disciplines?
Scientist Gbenga: The Specialties or disciplines are;

Medical Microbiology
Chemical Pathology
Histopathology
Haematology
Hanat: Any advice to young medical laboratory science students?
Scientist Gbenga : Focus on your studies, meet friends and senior colleagues to put your through. There's a bright future in Medical Laboratory Science but you have to be very good to maximize the potential.
Hanat:  Thank you sir for granting us audience.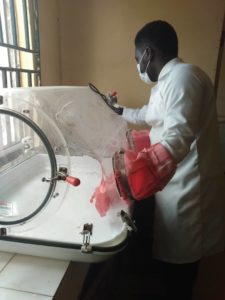 Interviewer: Olalere Hanat Asake
Lagos State University, Nigeria
Olalere Hanat Asake is a medical student at Lagos state University. She's passionate about Gender based violence and feminism. Her hobbies include writing, sleeping and eating .