A close relative of mine died few days ago. I wasn't really familiar with her. Her death was really tragic. She had a four year old girl named Joan. Her father wasn't able to raise her on his own so he asked my aunt to raise her instead.
The child always refused to be left alone and never left my aunts side, not for a moment. It soon became a problem as it hindered my aunt from being free. She had to take the little girl to everywhere she went. The little girl needed constant attention to the extent that my aunts daughter started to feel jealous and left out.
One day, my aunt had to go for a business trip. She informed me and put Joan in my care. I thought it was going to be an easy feat as I lived alone at that time and could use some company.
After the departure of my aunt, I tried talking to the little girl but her behavior was something I couldn't fathom. I also tried to play games with her but all my attempts fell down to her height(short). After some days, I noticed that she always had a red ribbon slightly tucked under her arm and she refused to let it go. She never spoke or smiled or laugh. All she did was sit in a dark corner and stare at the wall all day long. This act sent chills down my spine.
I tried my best to entertain her with games, jokes, toys and what not. I replaced my camera this morning and I decided to let Joan play with my old one. Upon seeing the camera, she lit up. I showed her how to use it and she went round the house taking pictures. I was really glad I made her smile after all has happened.
I never realized how difficult it was to live with Joan. Whenever I tried to leave the house or her room, she started screaming and crying. She would always create a huge fuss if I left her alone. At some point, she insisted on going into the bathroom with me, which was quite embarrassing.
Once it was bedtime, she refused to stay in the guest room and insisted on sleeping in my bed. I read her a sweet story and sang her a lullaby and luckily for me, she fell asleep. Then I noticed the red ribbon, some part of it was blacked as if it was burned. It made me think.
Few hours into the night, a strange noise woke me up from my slumber. I turned around and realized something was wrong with Joan. She was trembling and shaking. Her eyes were wide open, her teeth chattered and tears rolled down her cheeks. I got up to her, held her and asked what was wrong.
"She's looking at me again", she said softly.
"Who is?", I asked surprise.
"The black woman" she replied
She didn't say anything else. I tried to convince her that nothing was there but she kept whimpering and shaking her head. It took a lot of time for her to calm down and get to sleep.
The next day, Joan woke up and everything was alright. She lived playing with my camera. My aunt came back and when it was time for her to go home, I told her she could keep the camera. Although she didn't say anything, she hugged me and quickly jumped into my car.
I dropped her off at my aunt's and stayed for a while. My aunt appreciated me for keeping her safe while she was away. We spent some time chatting at the kitchen table. My curiosity overpowered me and I asked my aunt how her mum died. When she heard the question, she fidgeted a little.
"Uhmm, she died in a fire" she said
"How did the fire start?" I asked curiously
"Well…" she hesitated, "She poured gasoline over herself and lit a match…She burned herself alive".
"That's really bad" I said
"It was really devastating but the family chose to keep the matter private and accepted that it was an accident" she said.
After a while, my aunt couldn't bare the Joan's drama. She'll often sneak out of the house to avoid the child's fuss.
Unfortunately, after some time, Joan died.
My aunt was trying to change her behavior. At night, she would force the little girl to sleep in her own bedroom. Even though Joan screamed and cried, my aunt left her there alone and locked the door. In the morning, she found Joan lying motionless in bed. The poor little girl was dead.
No one could point out how she died. The coroner also could determine how she died. There was no mark on her body, she was perfectly healthy the night before. There was no explanation for her death.
We held a little funeral for her. After that, I went back to my aunt's house. It was really sad that the little girl died that way. My aunt returned the camera to me. It was something to remember her by.
The memory was filled with random pictures she had taken. I went through them and smiled. I wiped few tears from my eyes. Most of the pictures were my apartment, flowers, clouds, dogs… silly pictures that a child would take.
Then, I came to the last picture that sent ice chills down my spine and turned my blood cold. my hands were trembling. I tried to scream, but nothing came out.
The watermark time stamp showed it was taken the night Joan died.
Here's the photo: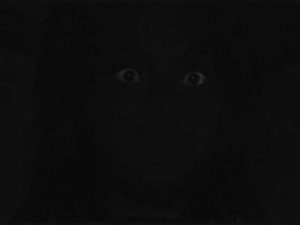 Writer: IBRAHEEM BASHEER
University of Ilorin, Kwara State, NIGERIA