What you are about to read is a disturbing reality behind unclaimed bodies sent to anatomy lab in medical schools. However, each character and scenes are real, but real names are withheld.
A Rite of passage for first year medical student: Meeting the first patient
Friday 14th of November was a day I and my colleagues have been yearning for, we have been dying to meet our "first patient" after spending about 3 months reading through theories about the human body, every facets of the human body never ceased to amaze us.
"It's time we see the real stuff we have been reading about days and nights" Kumata said "The brachial plexus has always been giving me headache whenever I read about it, probably I will understand more about it, the moment I lay my scalpel on a cadaver" he concluded.
Prior to the first day, the Anatomy professor gave a brief lecture about the special and privileged experience that are bound to meeting a cadaver (the first Patient) for the first time and also getting to dissect some part of it.
"Luckily, working on a cadaver will enable you to visualize the human body in its actual form. Similarly, you will understand the pathologic processes you have studied so far, this is a rite you all must fulfil " he paused and continue "…….furthermore, tumor formations, enlarged organs or past surgical procedures and wounds will be clearly shown to you. Your textbooks may not show all these…. majority of you find the head and neck region very hard to comprehend, I don't really know why! When you meet your first patient, you will understand better, so never joke with your first cut" he said and ended the class as he put on his goggles. The whole class murmured as we wrote down the instructions.
The Gross Anatomy Lab
Back to the present, I and Kumata haltingly headed toward the Gross anatomy lab to converge at point of entry into the lab, with the atmosphere filled with foul smell of cadaverin and putrescine we put on the surgical mask almost immediately.
Conversely, lectures began few months ago, for freshmen like us dressed in brand new scrubs and lab coat, a real college of medicine exploration did not arrive until we all entered the notorious Gross anatomy lab.
I approached the door to the lab with both excitement and fear. Even though it was something I had been waiting to witness since I stepped into med school, surprisingly, fear began to run through my veins with my heart beating as fast as it could. "You all will be meeting a stranger – the first patient" I remembered the professor's statement in the last class. " I'll be meeting a dead stranger, not even someone I can communicate with" I soliloquized and paused on hearing an announcement from the lab supervisor. On the condition, we had a total of 55 people in the lab, with each of us grouped alongside four other people.
Inside the cadaver lab with the first patient
By my right side were two cadavers laid out on the dissection table while on my left were rows of other tables with different preserved bodies covered in body bags. Each bags were zipped up and we were told not to open unless instructed so.
Before dissection began, the supervisor Dr. Keith Moore offered us some words of encouragement , also cautioned us concerning how we are to handle and relate with the cadaver in front of us "…..remember that the specimens in front of you were once living just like you are, they are someone's mom or dad, sister, brother, uncle, aunt and friend, they deserve every bit of respect from you, they decided to give you a gift, to become your teacher, and also a rare privilege to learn from them" he said "…use them wisely while you can".
"Did they really gave their body knowing it will be defaced in the lab?" I asked myself as I thought about the kind of life each of them had lived.
Cadaveric oath
Firstly, we all recited the cadaveric oath after which each body bag were unzipped, suddenly, everyone put on a weird expression as soon as the cadavers were revealed.
That was my first experience with being close to a dead body and suddenly I had a foreign feeling from my emotional receptors as we began to unveil the sheets covering the body. " Oh no! " I exclaimed.
Consequently, my sympathetic nerves began to switch into their respective high gears. His facial expression was trying to tell me something, I felt I was alone even though I had my table mates with me.
He seemed like a man in his early 20s. I began to move away from the table as my brain couldn't resist the surge in impulses radiating from my nerves, I shivered in sweat and suddenly screamed louder than normal and fell to the ground with tears, everyone was shocked by my reaction on seeing the face of the cadaver. I ran out of the lab leaving behind every other things.
You may also like: CHASED AND HUNTED BY A CADAVER
Wilson and Ross
The body my group was about to dissect was that of Wilson, my childhood friend. "Ross!" I heard my friend called after me. I and Wilson used to go clubbing together during our premed days in the University of Nigeria, Nsukka, where we studied biology before deciding to study medicine, we were both in third year when he was involved in a car crash while traveling to Lagos.
However, he was nowhere to be found afterwards . Amidst grief and incessant search for their son's body, Wilson's parent accepted their ill fate after 3years of search costing them millions of money.
They believed their son may still be alive somewhere around the world. However, my shocking discovery led to the unraveling of other matters. Specifically, most cadavers in the lab had seemingly strange holes in them—bullet holes! This made me wonder who they really are, icluding that of Wilson. We were told that they were bodies of executed criminals and unclaimed body in government hospitals around.
Unclaimed Bodies
Wilson's parents tried all their best to retrieve their son's body from the medical school, and finally, he was given a proper burial after thorough legal duel with the school. The medical school claimed the that unclaimed bodies were authorized to be donated to medical schools after a long period of time.
"If no-one shows up within a certain period of time, the bodies are sent to teaching hospitals to train medical students " an advocate said. "Wilson was murdered by unknown persons, and the body was found by the police" the police report stated
Several cases of unclaimed bodies occur when relatives are not aware of the deaths or are unable to locate the body of their loved ones. I was traumatized after seeing my beloved friend been plasticized in the Gross anatomy lab, I abandoned my studies for weeks to nurture my mental health back to normalcy, imagining Wilson standing by the door anytime I tried to enter the Gross anatomy lab. All through my years in medical school, my stay in the lab has always been difficult. I ended up graduating a year after my classmates, and now I'm a general practitioner.
Coping with grief and loss after meeting with the first patient
On a night shift, after some hours of work, I took a brief nap on a chair while I kept my head on the table, not like a dream neither reality, a figure stood by the door. "Is that you, Wilson?" I heard no response. "Wilson! Wilson!!" I yelled. The next thing I heard was a knock somewhere close to me. "Doctor Ross, Ross! Ross! what's wrong ?!" I woke up sweating, it was all a dream! "it's 6am, your shift is over" Doctor Sam Said.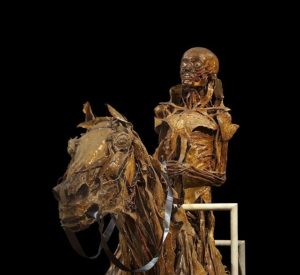 Written By; Ahmad Abdullah
University Of Ilorin, Kwara State, Nigeria.
Ahmad Abdullah is a microbiology student who show so much interest in writing about the medical field and also wish to study medicine as a second degree. Also a  creative and flexible young blog writer with a touch of computer skills.  Hobbies include video Gaming, history, biology, drawing, star gazing and astronomy