"Doctor, na kitchen I dey when I hear say the pikin dey cry, as I run go inside room, na so I see Madam wey hold knife wan kill the pikin", the maid explained.
" I hold Madam but she say she go kill her pikin, I rush collect the knife so she no go harm anybody before I call oga for phone", He explained further.
" Okay, thank you so much. You can go", I gave the command.
" Doctor", He said as I turned to him.
" I hope say Madam no dey mad Sha because one day wey oga no dey, na so she dey talk to herself abi she dey see people wey we no dey see?", He inquired.
He wouldn't understand so, I didn't give him a reply.
His boss walked in with his wife and their little baby who is few weeks old.
What Happened To My Wife?
"Doc, I don't understand what has happened to my wife. A sweet loving woman who couldn't wait for her child to be born suddenly develops the will to kill the child!", He snapped sharply.
I stood there as he lamented about his wife's new life.
"Your wife is suffering from Post partum depression, it is a condition common with childbirth, this may last for few weeks or more."
"There is swinging of mood, excessively happy or crying over nothing, feeling of loneliness and sometimes, hatred for the child", I explained to them.
"Is there a way out?", They both said with all attention
" Yes, since it's detected earlier enough. She will be on some medications and also see a therapist. I also want you to be supportive and make sure she is never alone in the house." I explained.
What's Post-partum Depression?

Post-partum Depression(PPD) is a complex mix of physical, emotional, and behavioral changes that happen in some women after giving birth.
According to the DSM-5, a manual used to diagnose mental disorders, PPD is a form of major depression that begins within 4 weeks after delivery.
The diagnosis of postpartum depression is based not only on the length of time between delivery and onset but on the severity of the depression.
About 1 out of every 10 of women will develop a more severe and longer-lasting depression after delivery.
About 1 in 1,000 women develop a more serious condition called postpartum psychosis.
Signs And Symptoms May Include;
Being uninterested in the baby or feeling like there is no bond between mother and child.
Crying all the time, often for no reason.
Depressed mood.
Severe anger and crankiness.
Loss of pleasure.
Feelings of worthlessness, hopelessness, and helplessness.
Thoughts of death or suicide.
Thoughts of hurting someone else,especially the baby.
Trouble concentrating or making decisions.
Causes Of Postpartum Depression
A history of depression prior to becoming pregnant, or during pregnancy.
Age at time of pregnancy.
Family history
Going through an extremely stressful event, like a job loss or health crisis
Having a child with special needs or health complication.
Living alone.
Marital conflict.
You May Also Like: The Man With Ten Daughters: Baba Sewa's Story
How Does One Take Care Of Postpartum Depression?
PPD can be treated with medication and counseling.
PPD is not "madness" though some traits of "madness" can manifest. It is necessary it is detected earlier to avoid "harm" to both the mother and the baby.
A more severe condition associated with childbirth is "Pueperal Psychosis",though, it is a rare case.
Any woman is at risk!
Check yourself as a single lady, don't assume the moodswings are normal.
Talk to a therapist and get the necessary help!
Depression is real especially in my gender.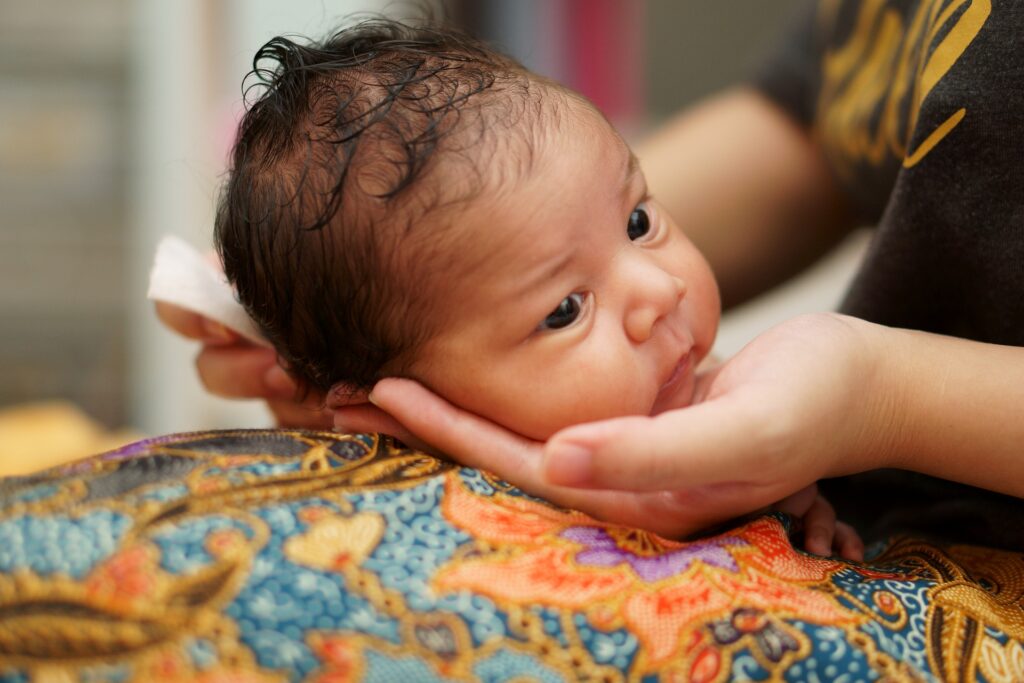 About The Writer
Writer: Esther Iseoluwa Oyeyemi
Ekiti State University Teaching Hospital, Ekiti State, Nigeria.

I am Esther Iseoluwa Oyeyemi, from Osan Ekiti in Moba Local Government of Ekiti State. A Student of Midwifery in Ekiti State University Teaching Hospital, Ekiti State, Nigeria.
I am passionate about the Orphans and Less privileged, Women's health and wellbeing(Particularly in pregnancy) and also interested in Geriatrics and Family Health.
I'm a writer, spoken word person, Volunteer and crafter.
I believe in the cyclic pattern of impacts irrespective of your race,age or sex and I achieve this with the gifts and talents embedded in me to be a blessing to all.