"Brrring!!" The alarm clock rang as I jumped out of my bed with maximum velocity. It was 4 am. I ran to the bathroom, washed my face and wore a black joggers and a black T-shirt to match. Staring at the black leather bag I had hung on the wooden chair in my room, I gave a wide smile.
Instantly, I took out a face cap from my drawer, carried the bag and dashed out of my room. The whole environment was serene at that moment although flashes of dim light could be seen in some windows. Well, it was on a Tuesday and most people were preparing to go to work.
I ignited the ash Toyota Camry the car I had hired the previous day and drove off. After driving for about 30 minutes, I found a suitable place to park the car. I came down from the car and stood at one corner of the street unnoticed, waiting patiently for him. Soon, I saw him coming. He had a briefcase in his hands as he was going to work. I immediately brought out the handkerchief from my black leather bag and moistened it with some chloroform which was in a small bottle. As soon as he got near me, I jumped out from my hiding spot and covered his nose firmly with the handkerchief.
Kidnapped and held captive
Uncle Chidi slowly opened his eyes. As soon as he recognized me, he tried to scream but his mouth was gagged up with a plain brown scarf. His hands were also tied to the wooden chair in my room. I stared at Uncle Chidi for a moment and burst into hot tears.
"Uncle Chidi, why did you do this to us? Maka gini?" I said crying uncontrollably as I walked out of the room.
A few minutes later, I walked back into the room carrying a file. I removed the plain brown scarf which I had used to cover his mouth and I stared at him with anger.
"I was just seven uncle Chidi. Just seven!!! Tell me, what attracted me to you? My breasts were as tiny as a dot, yet you were so attracted to me. I was just a child Uncle Chidi yet you molested me severally. You would come into my room and touch all sensitive parts of my body and then sleep with me."
"I'm so sorry Oby. It was the devil" Uncle Chidi stammered in defence.
"Oh…So it's the devil? You are the devil!
Paedophiles often build trust with parents before children
My mum trusted you so much. She made you stay with us throughout your five years in the university yet this is what she gets? Defiling her three kids? Uncle Chidi, you are the devil" I cried.
Mma was just three years and Ada was nine when Uncle Chidi started living with us. My parents were tycoons who went about travelling here and there. They had no time for us. When Uncle Chidi got admission into the University of Lagos, my mother's joy was full as his institution wasn't far from our house. So, uncle Chidi stayed with us for that period. Whenever he was around, he would call each of us into the room, lock the door and say he wanted to play with us.
Manipulating and Grooming their victims for Sexual Abuse or Assault
I remember vividly the very first-day uncle Chidi called me into his room. He sat me on his bed and kissed me passionately in my mouth. It felt weird as no one had ever kissed me that way before.
"Oby, relax okay? I just want to play with you. You would enjoy yourself okay? Don't worry, I have some chocolates for you after that – Grooming."
I was so naive and I didn't know what was happening. Soon, Uncle Chidi started moving his hands across my chest where my tiny breasts were located. He also held my buttocks massaging them softly. The next thing he did after that was so horrible and painful. He warned me not to tell anyone and promised I won't feel pain when next he played with me.
Months grew into months and years grew into years. Yet, my parents never suspected anything was wrong. They were too preoccupied with making money. Aunty Agnes who was our housemaid never presumed anything was wrong as she was always in the kitchen. As I grew older, I realized that uncle Chidi had been molesting us including Mma who was just three then. Ada and I were so scared and ashamed to speak to anyone about it and we kept mute.
Adult Manifestation of Childhood Sexual Abuse
Uncle Chidi eventually left our house after his graduation but the pain was still there. It was such a horrible experience that affected Ada and me so badly. We never told anyone about our experience with uncle Chidi. Whenever we thought about it, we felt so dirty inside and talking about it right now makes me feel dirtier because it hurts deeply.
It's been 15 years now but I can still see it, feel it, hear it and taste it. Ada is in the psychiatric hospital at the moment and Mma is in the grave today. Mma died when she was eight and I'm certain uncle Chidi's action was a contributing factor to her death. I was almost going crazy. I wanted to understand the science behind the whole thing.
Why was he Sexually Attracted to Children?
Uncle Chidi must have had a girlfriend back then in school but why did he choose to molest us? Why was he sexually attracted to us despite the fact we were kids? Why didn't he pick on aunty Agnes instead?
My curiosity probed me into making a lot of research. I later discovered that uncle Chidi was suffering from a condition known as paedophilia.
Paedophilia – Sexually Attracted to Children
It is a mental condition in which one is sexually attracted to children who are yet to attain puberty. However, not all those who sexually abuse children are paedophiles. Some are just children sexual abusers. Well, the cause of paedophilia has been linked to diverse neurological and psychological abnormalities.
Research has shown that Pedophilia has been linked to one's brain structure and function. Some studies have shown that one or more neurological traits present at birth may increase the likelihood of being paedophilic. Also, some studies have also shown that most paedophiles tend to be left-handed and truly, uncle Chidi was one. I concluded that uncle Chidi was indeed a paedophile when I discovered he never had a girlfriend back then in school.
There is no Cure for being Sexually Attracted to children
Sadly, there is no cure for being Sexually attracted to children but certain therapies can help paedophiles refrain from acting on their desires. The truth is that being a paedophile isn't one's fault because that is how the person's brain was wired. Unfortunately, there is no method of preventing paedophilia at the moment.
I was no longer staring at uncle Chidi with anger but with pity. I untied his hands and handed him the file I was holding which contained some documents about pedophilia. He soberly took the file from me and read through the pages. It took a while before he finished and as soon he was done reading he started crying.
Moving Forward After a Sexual Assault
He confessed that he had always been sexually attracted to prepubescent children and he barely enjoys sex with any adult. Though he was married, but he still fantasizes about having sex with kids. Uncle Chidi went on his knees to beg for forgiveness. I could see this remorseful feeling in his eyes. It wasn't his fault for being a paedophile but he had a choice. He could have chosen to rebuke his desires but he yielded to it. He could have cried out for help but he didn't.
I took my black leather bag which was on my bed, unzipped it slowly and brought out the syringes. One contained pavulon, the other potassium chloride and the third midazolam. They were potent drugs capable of ending his life few seconds after administration. I was going to inject him and get rid of him……..
Five years later
Five years later, our entire family attended the burial of Uncle Chidi in St John's Catholic church. He got involved in a fatal motor accident. I had forgiven him the other day and got him enrolled for therapy in a psychiatric hospital. Ada became better and was discharged from the hospital. My parents got to know about our experience with Uncle Chidi later after his death. They felt so horrible for failing as a parent. As we drove from St John's Catholic Church that day, Ada looked at me and heaved a sigh of relief. I looked back at her and smiled with my white teeth widely visible. Our predator was gone!
Here is the big question…..
"Should paedophiles be spared of their crimes considering the fact that some were born being sexually attracted to children?"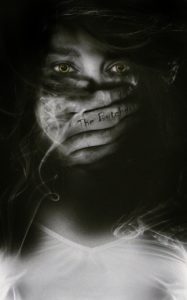 Writer: Isibor Precious
Delta State University, Abraka, Nigeria
Isibor Precious is a young writer who uses writing as a means of communicating to the world. Spurred by certain issues of life, a great message lies in every of her stories. Her stories are captivating, educational and eye-opening. Though a student of pharmacology, her choice of words are explicit and emotive.