Hisashi Ouchi, The Man without DNA
Hisashi Ouchi dressed up in his laboratory as usual and headed into the facility as he put on his helmet and gas mask. When he entered, he met his colleague Masato Shinohara who was dressed in same attire. Both of them cautiously entered a room where they put on a hazmat suit (hazardous materials suit).
Consequently, a senior scientist, Yutaka Yokokawa also entered few minutes after them and gave them some instructions. The JCO scientists, Ouchi, Shinohara, and Yokogawa were in a hurry to complete the last few steps of the fuel conversion process to meet up a shipping schedule.
The men were mixing together a batch of fuel to be use in a fast breeder reactor—a special type of nuclear reactor that can create more fissile material than it consumes. For convenience and conservation of time, the team of three planned to mix the chemicals in stainless-steel buckets in a precipitation tank.
These men are experienced nuclear scientists, but a series of miscalculations and outright mistakes resulted in one of the most bizarre events in the history of mankind.
Cherenkov Radiation
Hisashi Ouchi stood next to a large steel tank (precipitation tank) which he's about to add some chemicals and 16kg of Uranyl Nitrate containing about 18.8% Uranium-235.
Directly above him, Shinohara stood on an elevated platform where he overlooks the unloading of the chemical, about four meters away is Yokokawa sitting on a chair busied with some paperwork.
Ouchi begin to unload the uranyl nitrate from the buckets into the tank and as he wasn't aware that the precipitation tank has a maximum uranium limit of 2.4kg, he emptied the whole buckets of uranium into the tank regardless and as he does, he set one of the most dangerous nuclear reaction in motion.
An Unending Nuclear Chain Reaction Began
An unending nuclear chain reaction began as the wall of the tank reflected wayward neutrons which bounce back to attack more uranium atoms. Within nanoseconds, a blinding blue flash caused by Cherenkov radiation emerge from the "nuclear reactor".
The three scientists observed this weird blue lightning almost instantly and staggered backward, blinded and dazed as the gamma radiation alarm blared. Ouchi and Shinohara being the closest to the source of the radiation fell to their knees and in excruciating pain, feeling nauseous, and difficulty breathing.
Unfortunately, being the closest to the tank, Ouchi was blasted with 17Sv of radiation (8SV is considered to be fatal ), that being the highest radiation exposure ever recorded in human history, resulting in problems with mobility, hearing, and loss of consciousness. Shinohara was blasted with 10Sv while Yokokawa received 3Sv.
Aftermath; Tokaimura nuclear accident
The three men were successfully rescued from the facility and were transported to different hospitals.
Hisashi Ouchi suffered a very high degree radiation burns on his entire body, acute damage to his internal organs, which also destroyed his chromosomes and white blood cells.
Ordinarily, with a non-functioning immune system, he became vulnerable to infections and was placed in a special radiation ward to limit the risk of contracting one.
No Gene, No Repair
Accordingly, with absence of DNA in his entire body cells, he wasn't able to heal, blood and body fluids begin to leak from every part of his body. Five days after the incident, he was nothing but a red skinless man.
He begged the doctors to let him die and never wished for a resuscitation in case his heart stops. " I can't bear this anymore…. (coughs)…. I'm not a guinea Pig!" he said. However, the doctors responded by putting him in a medically induced coma. Their experiment is not over.
The doctors pumped blood into Hitachi Ouchi each moment he starts to lose blood, and receives about two dozen units of blood a day. All the drugs used had no effect including those gotten from outside Japan.
Stem Cell Transplant
Nevertheless, the doctors planned to restore some immunity into his body by transplanting peripheral blood stem cell (a new treatment at the time) donated by his sister.
Initially, after the transplant, there was an increased in white blood cells counts which lasted for only few days. Unfortunately, the leukocytes produced by the transplanted stem cells were later found to have been mutated by the remaining radiation present in his systems, this resulted in several autoimmune responses that worsen his rapidly degenerating condition (condition in which the body's immune system attacks healthy cells.).
Furthermore, several skin transplants were also done in an attempt to stop fluid loss through his pores which also failed. Numerous other surgeries were done and pharmacological intervention including *Broad-spectrum antibiotics, analgesics and *G-CSF, even though each of these strategies failed, the doctors never gave up on their attempt to keep him alive.
Some weeks later, one of his legs pinched off at the knee joint, his body continued to disintegrate like being designated to a half-life.
Hisashi Ouchi's Story – A Tragedy Of Human Error
Permitted by his family, doctors revived Ouchi several times when his heart stopped, even when it became obvious that the damage done to his body were untreatable.
Despite repeated efforts, his condition deteriorated; multiple organ failure, caused by repeated occurrence of heart failure. Luckily, after 83 days, He died (aged 35) on December 21, 1999 after an irredeemable cardiac arrest.
Similarly, Masato Shinohara (aged 27)died of internal bleeding and organ failure on April 27, 2000. Fortunately, their supervisor, Yutaka Yokokawa (54 years) survived and was charged to court with negligence of which he pleaded guilty.
More so, the prolonged treatment and efforts to keep Ouchi alive for 83 days despite his wishes and the pain he had to endure, was also questioned and received criticism and several sanctions. Scientists later compared this severity with being caught in the middle of the Hiroshima nuclear blast
You may also like: The First Patient: Dawn of Dissection
Glossary (*)
*Broad-spectrum antibiotics- Antibiotics used against a wide range of bacterial infection
*G-CSF- Granulocyte colony- Stimulating factor is a blood growth factor (glycoproteins produced by the body) that stimulates the bone marrow to produce more neutrophils (a typical white blood cell).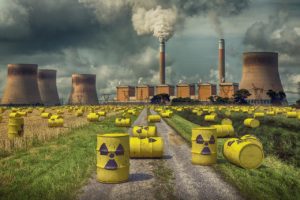 Writer: Ahmad Abdullah
University of Ilorin