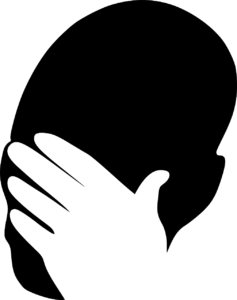 Should we forget about those who go about body shaming others? Should we pretend as if we never get mean criticism from our friends, family and even strangers? Well, we can't help but accept the fact that people make mean remarks about our looks daily. They talk about how big our stomach is, how big our lips are, how big our nose is, how fat our legs are and many other negative remarks.
They laugh at you for being an albino or for being black as coal. It's no longer news that people make unsolicited suggestions on how we could have looked better. Some would say: "you would have been more finer if you were tall". Some may say: "If your stomach wasn't so big, you would have looked more pretty and sexy".
Who Are You?
Well, let's forget about body shaming and let's face the big question –"WHO ARE YOU?" Do you know who you are? Do you have confidence in yourself? I mean do you hold yourself in high esteem? Do you feel inferior in the sight of others especially those that look better than you?
Truth be told, it saddens me when I see people locking themselves up in a room crying because of their looks. They cry because mere mortals who claim to be perfect condemn their appearance. Isn't that foolishness? Have you ever thought of people who wished they had a face even if it was filled with pimples? Do you know there are some people who wish to have legs even if they were fat and K-shaped? Some wouldn't mind being short as long as they could breathe. Some would prefer being an albino as long as they are healthy. So why complain? Why murmur? Why succumb to body shaming?
Dear ladies, have you ever thought of the amount of time you spend masking layers of foundation just to hide your pimples? What about the minutes you spend trying to package your stomach to look flat? Like, do you even imagine how useful those times will be if you had spent it on productive things? Yes, they call you devil because you are short. They call you a dwarf because you are short and in your presence, they call someone else an Iroko tree because he his tall, so why do you have to worry? That's who they are and as long as we are in this life we will always have people like that wherever we find ourselves.
Isn't Physical Appearance Overhyped?
Take for instance, the Vice President of Nigeria, Yemi Osinbajo. He isn't so tall as compared to other leaders but does that change anything? Of course not! Your physical appearance does not take you higher or lower in life. It doesn't change a thing. However, it might be a criterion for some jobs like modelling but not all jobs. Besides, it's not a do or die affair. There are other jobs you could do irrespective of your physical appearance.
Listen to me carefully and attentively. If you continue to change who you are for people, they would keep complaining until you are finally ruined. For example, there was this day I was going to see my best friend and I met an old friend on the way. I expected her to hug me and ask me how I was faring but she didn't. All she noticed was my physical appearance and she said: "Why do you look like this? Look at you!!! Your face doesn't look good at all"
After condemning my face, she recommended a cream for me to buy even though she wasn't a medical practitioner and I bought the cream. So, I started using the cream and after a week, I noticed my face wasn't getting better. It got worse. Someone else suggested I use another cream for my face but I didn't listen to the person because of my initial experience. If I had listened to all their recommendations, my skin would have probably turned so bad and I would be the subject of discussion in the mouth of gossipers.
Now Listen Carefully
No matter how good you look, someone must surely have something negative to say about you. You can't change the fact neither can I. Don't you know that those things you try to change about you makes you who you are? Why stress yourself undergoing series of surgeries and hours making up whereas you could use those periods to improve yourself?
The truth is that people will never be contented with who you are until they ruin you completely. And do you know the problem? You are actually the problem. Listen!! The world we live in now is not in need of your physical appearance but in need of people who got something up there. The world needs brainiacs and geniuses. What makes you isn't just your physical appearance. It goes beyond that. What makes me, Halimat, is different from what makes you Rodiha. We are all beautiful and unique in our differences.
Don't waste your time trying to change who you are. Don't waste your time crying in your room about your looks, succumbing to body shaming. Those things do not worth your tears, let alone your life. It gets me upset when I see people committing suicide just because of their looks. Yes, some go to the extent of committing suicide. If there is any need to change yourself, change yourself because you see it to improve yourself and become a better person.
Writer: Yusuf Halimat Olamide
University of Abuja, FCT, Nigeria